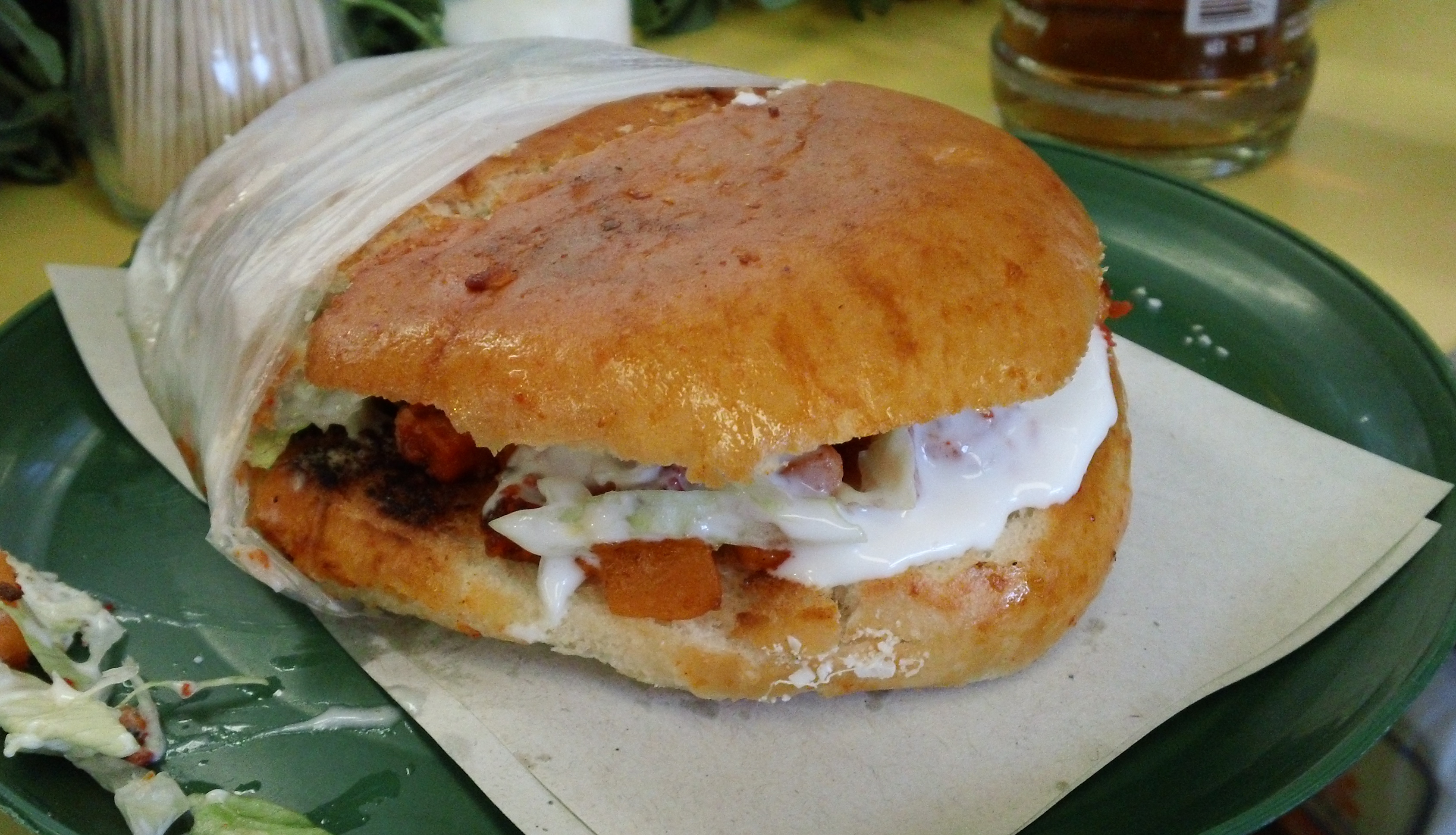 The pambazo never appealed to me until a few days ago, when I was puttering around Mercado San Juan Arcos de Belén, trying to brainstorm some new snack ideas for Eat Mexico.
Pambazos aren't exactly snacks. They're plump, bulging sandwiches stuffed with potato and chorizo. The roll — which according to Wikipedia was originally called "pan basso," or lower-class bread — is drenched in a guajillo-chile sauce and then fried.
I'd always placed the pambazo up there with the torta de tamal. (A fine sandwich, particularly suited to laborers and other people who aren't going to eat for five or six hours.) But how could I call myself a Mexico City food tour operator if I had not tried the pambazo? Plus I'd worked out four times last week.
So I got one.
The woman grabbed a roll off the stack, fried it briefly, then sliced it and placed it on the grill. Once the bread was dark-golden brown and toasty, she she slathered the chorizo-potato mixture on one side. Then came the crema on top: one spoonful. Two. Three.
She pressed the sandwich together, cut it in half, y ya. Done.
This was a simple, toasted torta. And it was fantastic, actually: the crema had oozed into the potatoes and chorizo, creating this comforting, warm potato salad. The bread, not greasy at all, crunched with each bite. I'd balked at the amount of crema involved, but the crema brought everything together. You could not have this sandwich without three spoonfuls of crema. Or could you?
I briefly wondered whether could make a healthy version at home. (Potatoes and mushrooms, maybe? Yogurt instead of crema?) But that would be blasphemous. The pambazo was perfect just as it was: crema, chorizo and potatoes, and crisp, salsa-dipped bread.
Have you tried pambazos? Did you have as rapturous as an experience as I did?