This morning, at a coffee stand inside the Terminal del Norte bus station in Mexico City:
Me: I'd like a cafe americano with milk, please.
Young woman: We don't sell an americano with milk. You can get a black coffee or a cappuccino.
Me: Can't I just get a small amount of milk in my [...]
Continue Reading

→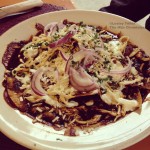 Breakfast in Mexico City is one of my favorite meals. Usually it's a fruit plate or a glass of freshly squeezed juice, followed by a heavy, spicy, substantial dish that will keep you satiated until the 3 p.m. lunch hour. Pancakes in DF can be a dinnertime snack.
The most typical Mexican breakfasts offer [...]
Continue Reading

→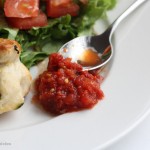 Since moving to New York, Crayton and I have suffered from intense salsa deprivation.
It took me awhile to start making my own because I kept looking for chile de árbol, the go-to red table salsa ingredient in Mexico City. But the chiles de árbol in Queens always looked stemless and [...]
Continue Reading

→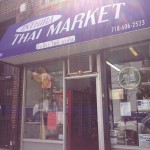 Until yesterday, I'd never smelled a handful of kaffir lime leaves.
The ones I smelled were frozen, sheathed in a little plastic bag at the Inthira Thai Market in Woodside. Event through plastic the smell was unforgettable: sharp and green and sour like lime juice, with the flowery perfume of a lemon and [...]
Continue Reading

→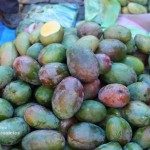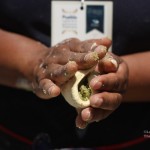 Tlacoyos are small, flattened masa pockets that are stuffed with either beans, cheese or fava beans and then grilled on a comal. They're a Mexico City street snack made almost exclusively by women, and usually you can find them near any subway station, market or tianguis.
A well-made tlacoyo has a crisp exterior, creamy innards [...]
Continue Reading

→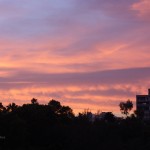 I'd been kind of nervous about visiting Mexico City so soon after moving to New York.
Five weeks in a new place is not long enough to put down roots, and a glimpse of my former life — a two-week glimpse amid gorgeous weather — might unravel the fragile routine I'd built for [...]
Continue Reading

→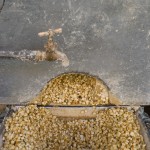 One of my favorite places in the Centro Histórico is an old corn mill on Calle Aranda. It's one of the few places left in the neighborhood that still grinds dried corn into nixtamal, the dough that forms the base of tortillas, sopes, huaraches, tlacoyos, gorditas and countless other Mexico City street foods.
[...]
Continue Reading

→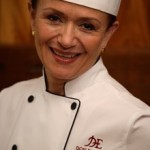 Today's post marks an occasional series I'm launching on this blog called "Tastemakers." It'll be a series of Q&As with people doing inspiring things with Mexican or Latin cuisine, in Mexico, New York and elsewhere. If you want to nominate someone, email me.
Margarita Carrillo Arronte is among the most well-regarded chefs in [...]
Continue Reading

→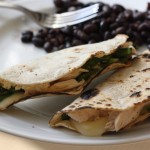 On
February 20, 2013
By
Lesley
For the past few weeks, meal-planning has made me anxious.
I couldn't think of any dish that would make me feel how I used to in the kitchen — relaxed, happy, a gusto. This is probably because our temporary kitchen had dull knives, no blender and two tiny pots that held four [...]
Continue Reading

→
Who is Mija?

Mija is Lesley Téllez, a food writer and culinary guide in New York City. I spent four years in Mexico's Distrito Federal, which launched my deep love for Mexican food and culture. In 2010 I co-founded the tourism company

Eat Mexico.

Be kind, ask permission!

All photos on this site were taken by me, unless otherwise noted. If you'd like to use a photo, please

email me.

Get The Mija Chronicles in your inbox

Read my old posts

Mexico politics, culture and art

More Inspiration