Currently viewing the tag: "chocolate"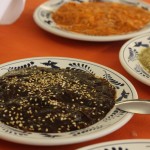 Most people probably think of chocolate as being European, but the cacao bean itself — the bitter seed that gives chocolate its taste — is native to Mexico.
The Mayans were the first to domesticate the crop, thousands of years before the Spaniards arrived. (The name cacao actually comes from the Mayan [...]
Continue Reading

→
On
September 10, 2009
By
Lesley
Alice had told me about the greatness of Palacio de Hierro's food department, but I wasn't prepared when I walked in to the Roma branch for the first time a few days ago.
Baskets brimmed with golden-brown loaves of bread, and mounds of candied, chili-powder dusted fruit. Exotic salts and truffles [...]
Continue Reading

→
I've been dreaming about Mexican chocolate tofu pudding since Crayton forwarded me the New York Times recipe a few weeks ago. It was my turn on our recipe exchange, so I ditched my Mexican chocolate ice cream idea and told everyone I was making dairy-free pudding. A few people were like, [...]
Continue Reading

→
The chocolates at Que Bo!, a shop in my neighborhood, are almost too pretty to eat. They look like marbles, almost.
One bite and it's over. You want to eat all of them at one sitting, preferably with a big glass of wine.
Que Bo had a booth at the Chocolate Experience, [...]
Continue Reading

→
Who is Mija?

Mija is Lesley Téllez, a food writer and culinary guide in New York City. I spent four years in Mexico's Distrito Federal, which launched my deep love for Mexican food and culture. In 2010 I co-founded the tourism company

Eat Mexico.

Be kind, ask permission!

All photos on this site were taken by me, unless otherwise noted. If you'd like to use a photo, please

email me.

Get The Mija Chronicles in your inbox

Read my old posts

Mexico politics, culture and art

More Inspiration