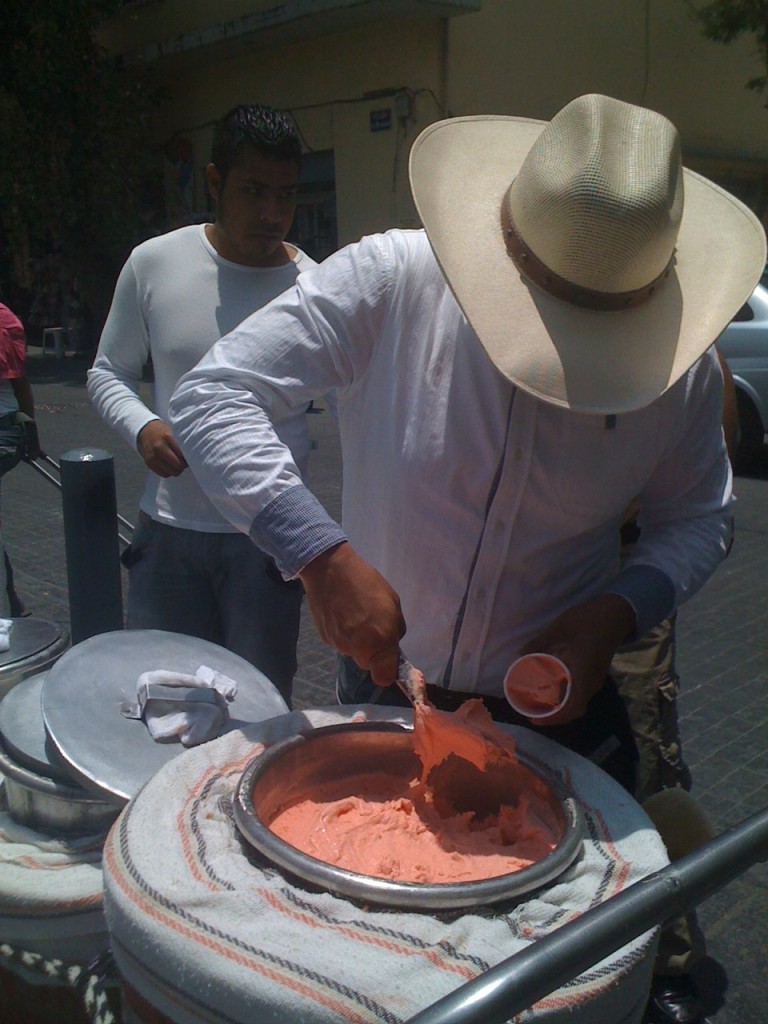 It's been hot in Mexico City lately, which means it's the best time to buy nieves, or street-side ice cream or sorbet. A few days ago I found probably the best nieve I've never tasted, from a guy named Benny (that's him under the hat) who set up on calle Ramón Corona just a short walk from Circunvalación. The street is just west of Mercado La Merced on the way to the Zócalo.
Benny's helper, a young man, shouted "Hay nieveeees! Dulce de leche, mamey, limón!"
The sun shone high and bright. We wandered over. Benny lifted the aluminum lid and a creamy lagoon of orangey-peach mamey lay there, waiting to be scooped. It was the slightest bit runny, like freshly churned ice cream. My friend Ben and I split one order of dulce de leche and mamey, and I think I might've moaned on the sidewalk.
Benny says he makes the ice creams himself using fresh fruit and ingredients. He also takes special orders for birthday parties. His minimum is one bote — the size pictured above — which feeds about 300 people.
If you don't have any weddings or baptisms coming up, you should seek him out for a scoop. He takes his cart along Ramón Corona, Mesónes and Pino Suárez, and he says he works year-round. He doesn't venture onto the more touristic side of the Zócalo, where street vendors aren't allowed. Here's a handy map of where I found him below.