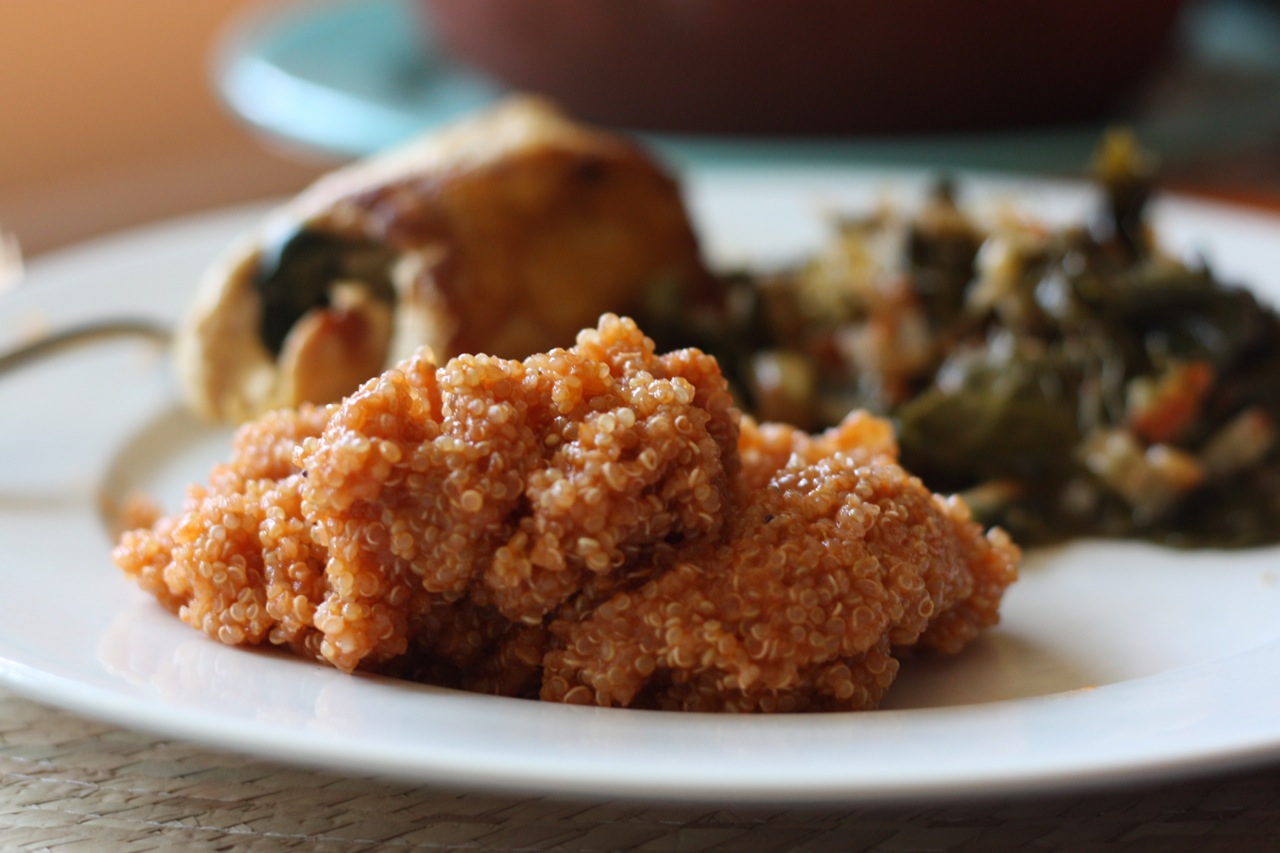 When I first moved here, I went a little crazy trying to find quinoa, the nutty, protein-rich seed that's related to amaranth. I tried smuggling some in from the States, but it didn't work. Mexican customs agents confiscated my supply. (Later they let me keep my brown rice flakes from India, which shows that their policies make no sense.)
Eventually I found quinoa at Green Corner, a natural-foods store in Mexico City. And then I just kept buying and buying, until the bags of quinoa began multiplying in my pantry.
Faced with an issue I'd never thought I'd have in Mexico — I have too much quinoa! — I tried to think of a way to use it, besides the usual steaming. My first thought was quinoa mexicana.
It's basically the same thing as sopa seca de fideo or Mexican rice, except with quinoa as the main grain. I'd actually tried to make this in Dallas once and it didn't work out too well. But this time around, it was pretty fantastic: the quinoa soaked up the tomato puree, and I couldn't detect any of the bitterness/earthiness that quinoa sometimes exudes after cooking. (This is why Crayton isn't the hugest quinoa fan. But he loved the Mexican version.)
Toasting the quinoa also toughened the seeds up a bit, which meant they had a nice, hearty texture. It wasn't quite in the Israeli cous-cous realm, but the dish was definitely more fun to eat than rice or noodles. Plus quinoa has more protein. How can you go wrong?
I ate several tostadas with this quinoa slathered on top and served it twice as a side dish. In the future I might add a dollop of crema or some diced, fried chile pasilla. Adding a wee bit of chipotle en adobo to the tomato sauce might be a good idea, too.
Sopa seca de quinoa
Serves 4 to 6 as a side dish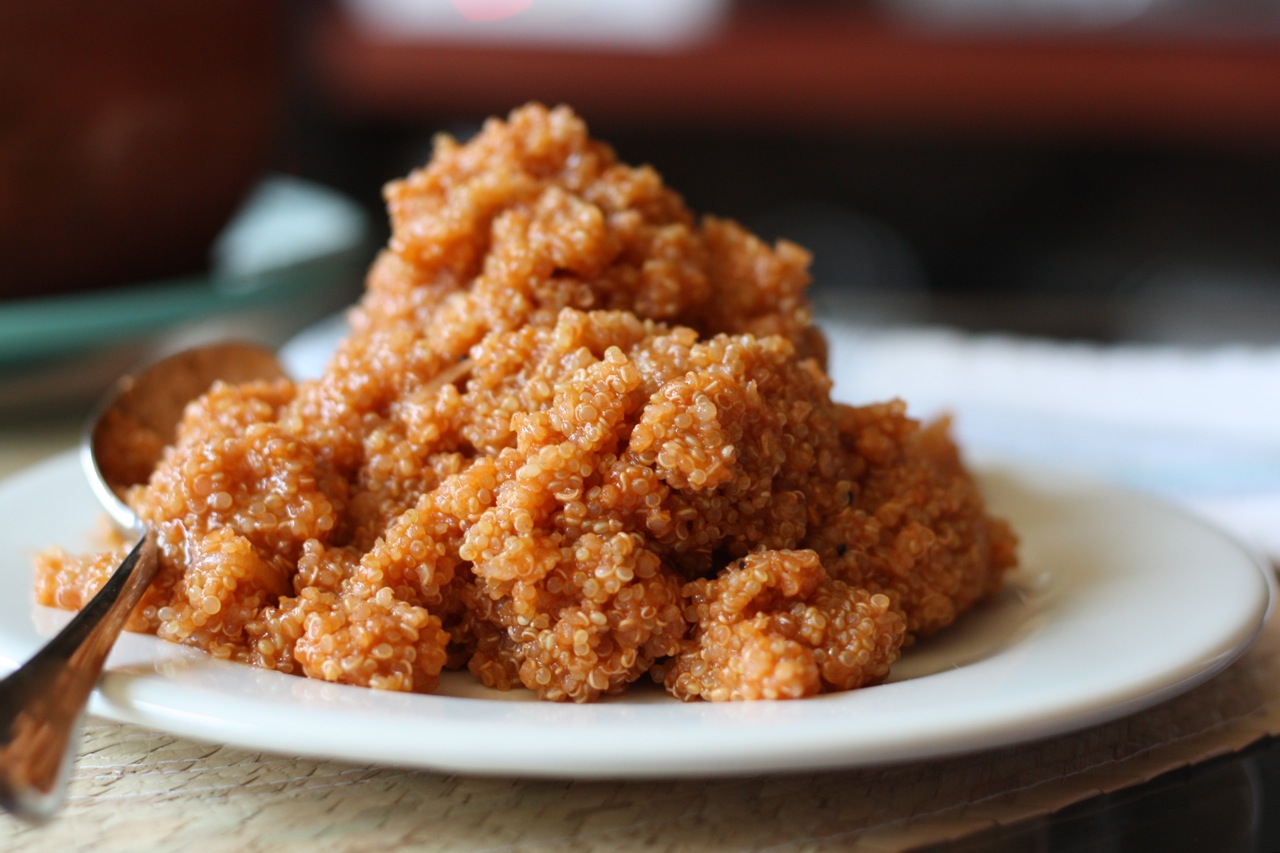 Note: I used boxed tomato puree for this because it's easy, but if you want to make your own tomato puree, blend perhaps three medium-sized tomatoes in a blender and pour into a pan heated with a little bit of oil. Season with salt and cook over medium-low heat until the tomato mixture turns a deeper red color and no longer tastes raw, perhaps 10 to 15 minutes. Add a little water if the mixture looks too thick.
Ingredients
1 tablespoon oil
3 slices of onion, about 1/4-inch thick
1 cup quinoa
1 3/4 cups water
1 210-gram box of tomato puree (or a small can of tomato sauce, if you live in the States)
salt
Heat your oil in a heavy-bottomed saucepan and, when hot, add onion and quinoa. Stir constantly (this will burn if you leave it too long), until quinoa starts to brown and releases a pleasant, toasty smell. Add water and tomato sauce and stir. But be careful, because the pan might hiss and spit. Add salt to taste. Bring to boil, and then lower heat to simmer. Cook for 30 minutes (this is how long it took me in Mexico), or perhaps half that if you're at normal altitude. Feel free to check on the quinoa as it cooks. It won't hurt the dish.
The quinoa may look wet when it's done cooking, but it solidifies a bit as it cools. If you find it too wet for your taste, cook with the lid off and let some of the liquid evaporate.