Some of my favorite restaurants in Mexico City are the ones that take traditional Mexican ingredients and turn them on their heads. For instance, Mexicans have traditionally eaten amaranth grain as a sort of sweet snack. But why not take amaranth and use it in a savory dish? Heck, why not go the other direction and take a quesadilla and roll it in sugar?
It's surprising how few Mexico City restaurants veer in this type of direction. They're either entirely traditional, or Mexican-French, or Mexican-something-else. Nothing wrong with those things, but it can be an absolutely inspiring experience to dine in a place that opens your mind a bit.
Charro in Condesa is exactly this type of restaurant — creative and fun, and playing with the boundaries of what exactly we should consider as Mexican food. The restaurant opened in December on Vicente Suarez street, under the direction of chef Daniel Ovadía.

Ovadía was already acclaimed for his work at Paxia, an upscale Mexicana restaurant with branches in San Angel and Santa Fe. Charro seems like a more relaxed concept: Blonde-wood tables, artisanal mescal, flat-screen TVs that show music videos.
The first time Crayton and I went, I was getting over one of my many sicknesses, so I didn't bring my camera. (Only my iPhone.) I stuck with a glass of wine — the list has several Mexican varietals, which is always nice to see. Crayton ordered a glass of Tobasiche, an artisanal mescal.
The mescal arrived in a jomate, a gourd that Mexicans have used as a drinking receptacle since prehispanic times. It is the recommended "glass" for mescal, as it is thought to balance the spirit's aromatic intensity and alcoholic richness. (The gourd is also known as a jícara.)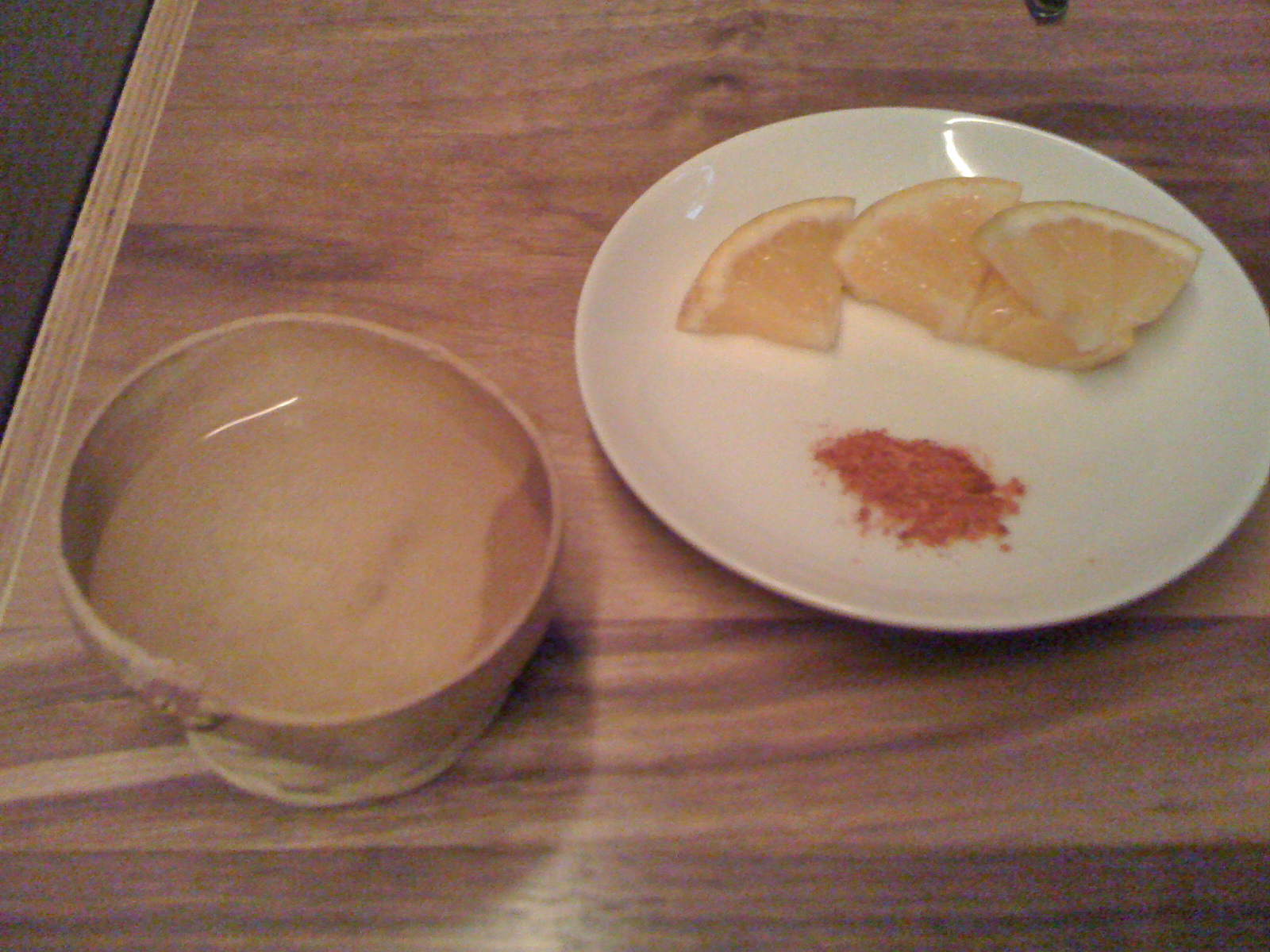 For the appetizer, we ordered the Oaxaca quesadillas, a set of four lightly fried quesadillas, no cheese, stuffed with chicken and rolled in sugar. They came with a side of mole sauce.
I didn't expect anything special, but the presentation was mesmerizing. A waiter arrived with the tray of quesadillas, displayed around a martini glass. A tablet of Mexican chocolate lay wedged inside the glass, leaving a little triangle of air at the bottom. On top of the tablet: several spoonfuls of warm mole. Using a spoon, the waiter delicately reached into the glass and broke the chocolate tablet in two. The warm mole oozed into the air pocket beneath.
The waiter gently stirred the sauce together, ribbons of melted chocolate mixing with the mole.
"Ooohhh," I breathed.
We took our quesadillas and dunked them in the chocolate sauce. Oh my. It was like eating a savory funnel cake crossed with a taco. Note to self: eat funnel cake with a taco soon.
On my iPhone, where I'd been typing notes about the restaurant, I wrote a frantic, mole-induced ramble: "I want to spoon this sauce outta this martini glass and guzzle it like a beer."
Uh… yeah.
For the main plates, we chose the chicken enchiladas with a spicy dark-beer sauce and the amaranth-crusted shrimp. (Yes, the savory amaranth was the chef's idea, not mine.)
Loved the enchiladas; the sauce held just the right amount of heat without drowning the entire dish. The shrimp, however — while I was inspired by the concept — lay in a pool of honey-flavored sauce that bordered on cloying. Would've been nice to have a hint of spice in there, something to provide a little more contrast and depth. Amaranth doesn't have an overwhelming taste on its own. But eh. Oh well. Crayton and I still had a good time: we sang along to Sufjan Stevens and Madonna, playing from the restaurant's speakers, and watched a few banda videos on the screens.
I went back to Charro a few weeks later with my mom. (This time with my point-and-shoot camera.) Those quesadillas had bewitched me. I couldn't stop thinking about them. So we ordered them, and they were as fantastic as I'd remembered.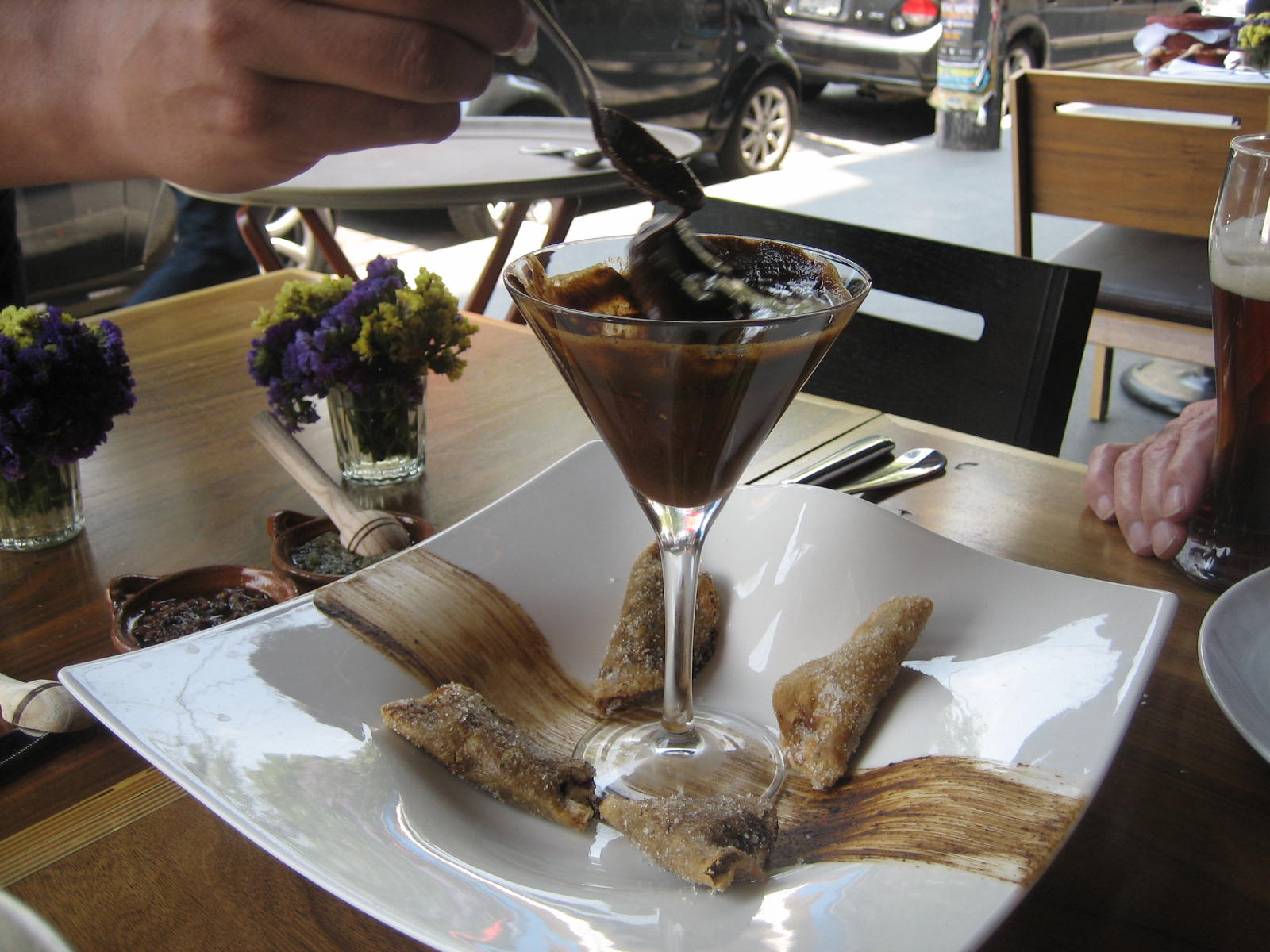 For the amuse-bouche, we had cute little hamburger-like gorditas: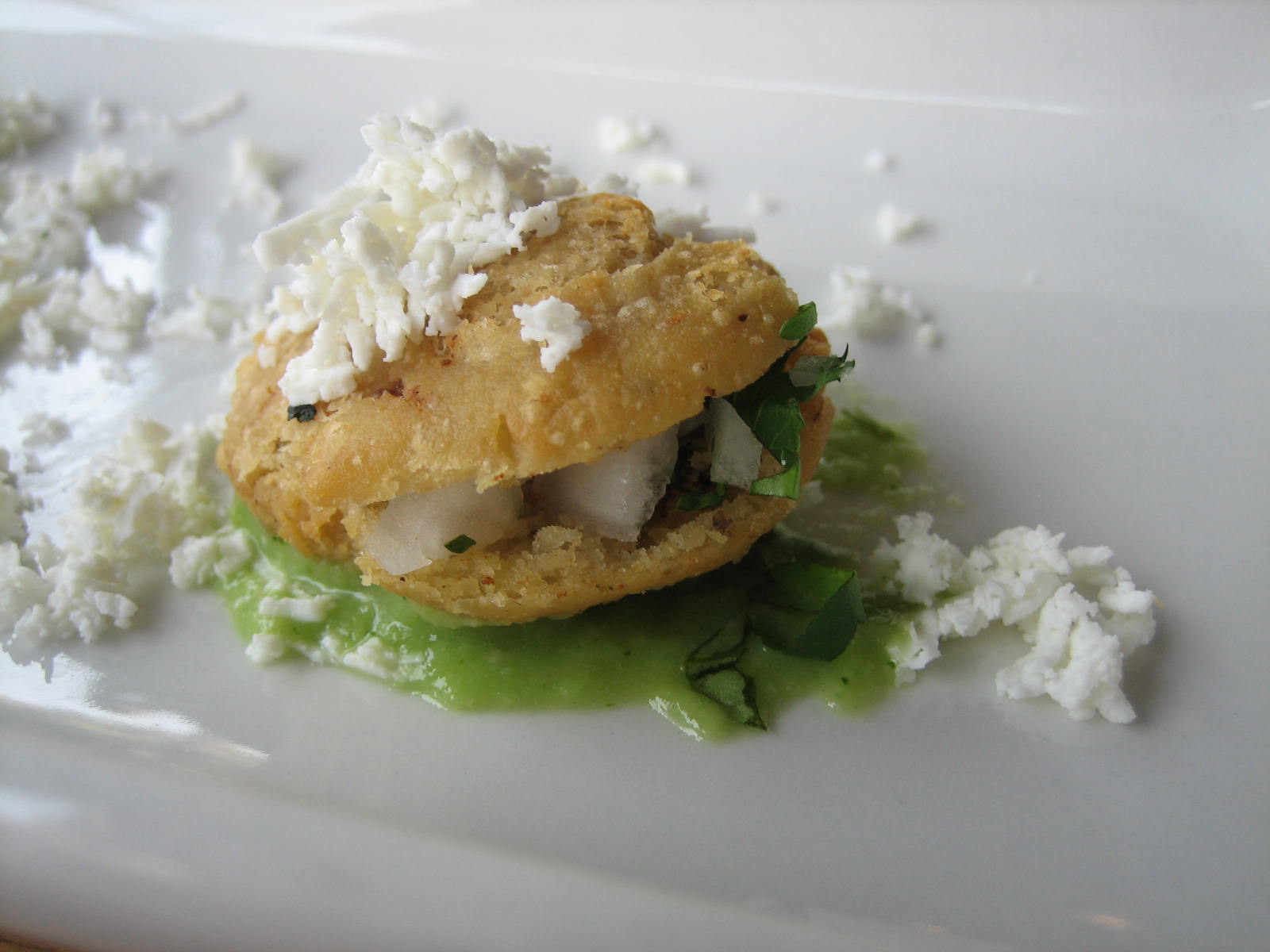 We also ordered the chicken enchiladas with the dark-beer sauce…
And my mom got stuffed nopales, which were kind of like reinterpreted sopes — shredded chicken, beans and cheese lay on top of a cactus paddle, the whole thing covered in crispy, bubbly bits of cheese. It wasn't much to look at, but it was comforting and homey.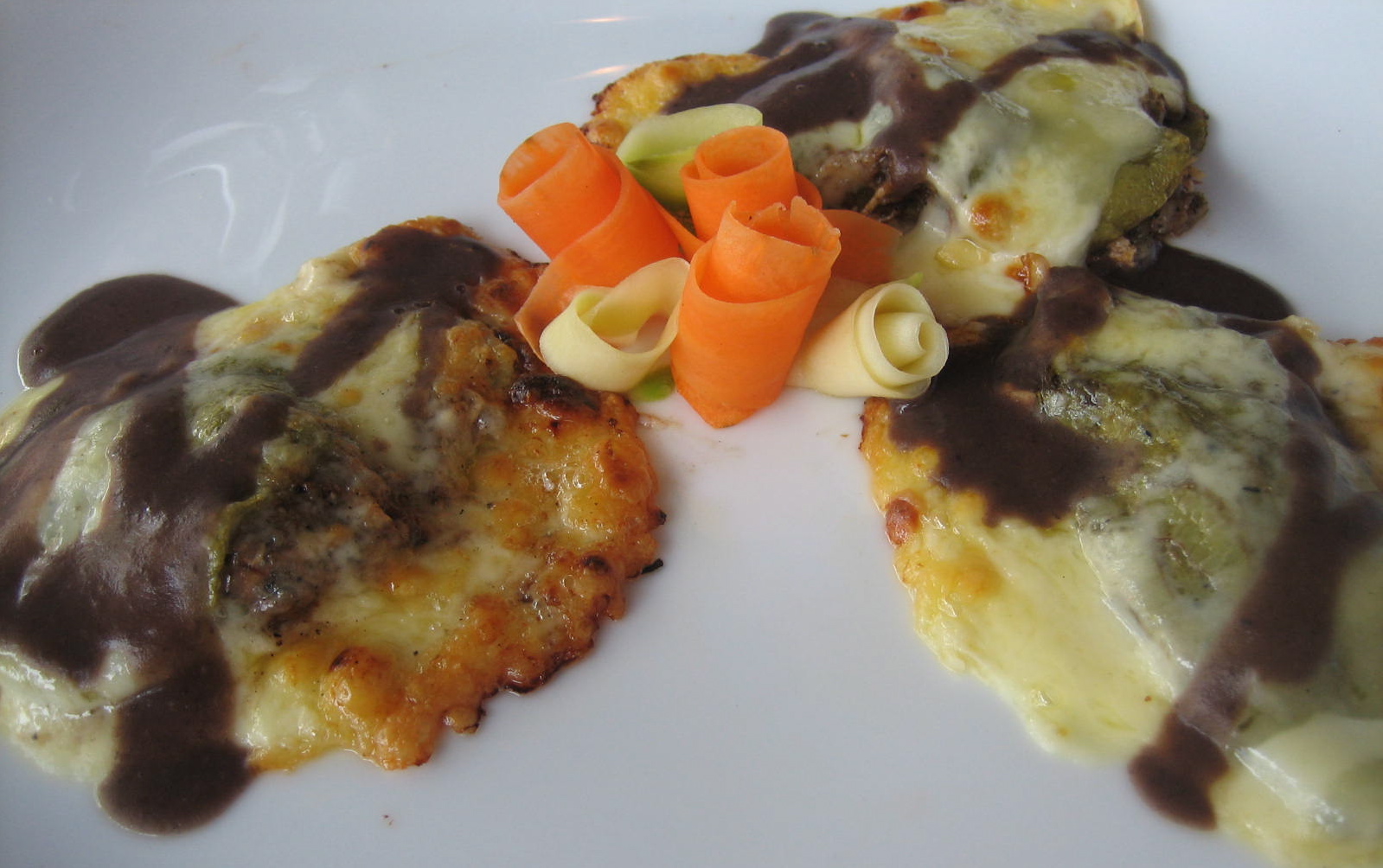 I wasn't in the mood for anything too heavy (see my previous posts about my jeans not fitting), so I ordered a vegetable salad. Baby veggies from Xochimilco and Ensenada were mixed with slices of aged Mexican cheese, and topped with a vinaigrette and piloncillo reduction.
Vegetable dishes in Mexico City, in my experience, have usually been bland and unimaginative, but this thing was awesome. A tumble of veggies had been cooked — grilled, maybe? — until crisp-tender, and then drenched in a savory-sweet sauce. Mr. Ovadía: please teach other Mexican chefs to make vegetables the way you do.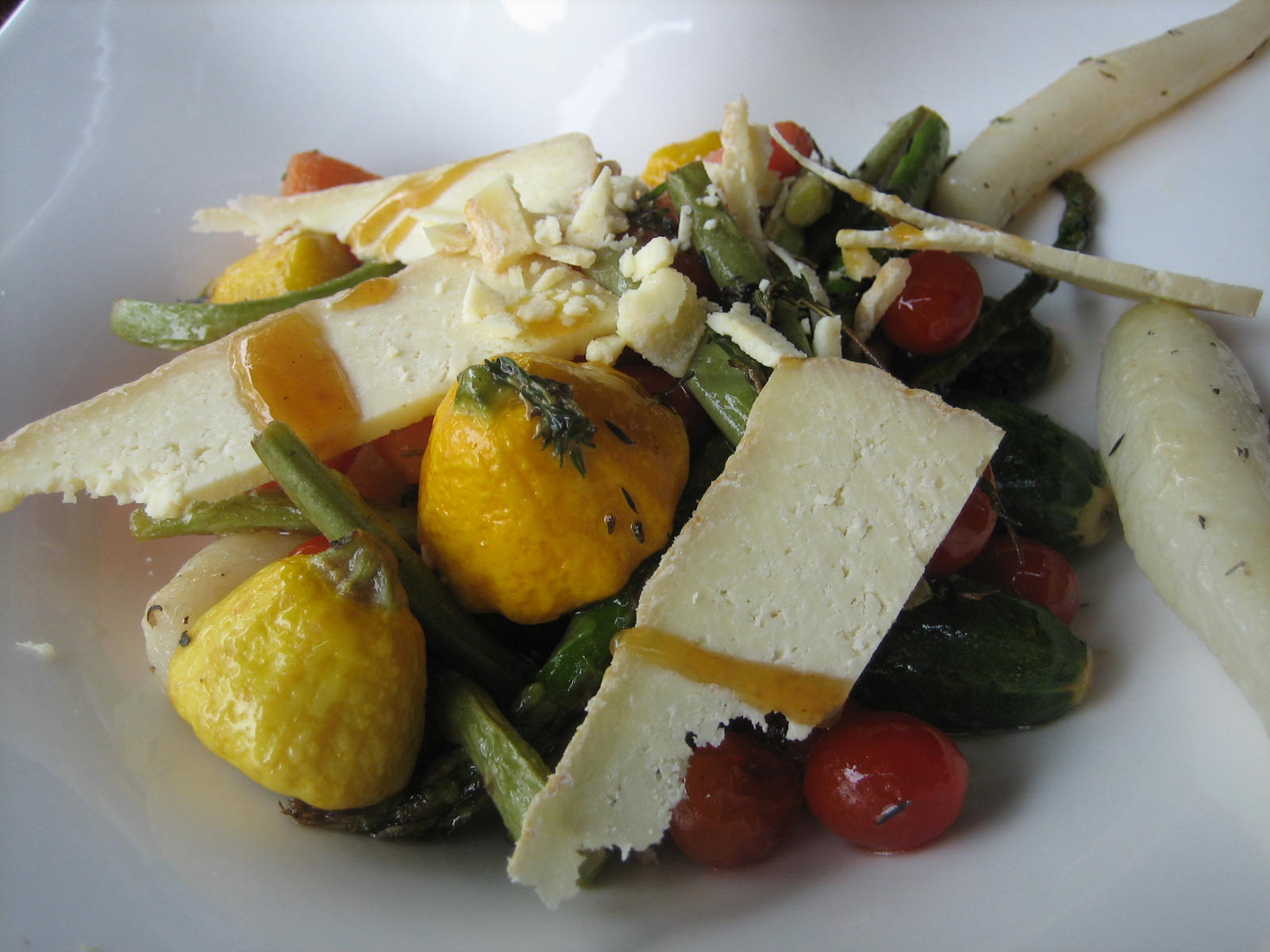 Of course, we had to close with the buñuelos with vanilla ice cream. The crisp pieces of dough shattered under our forks, and we dredged them in the caramel sauce, and scooped them up with the ice cream.
While we ate, a roving musician with a small guitar stopped at our table and sang a few huapangos.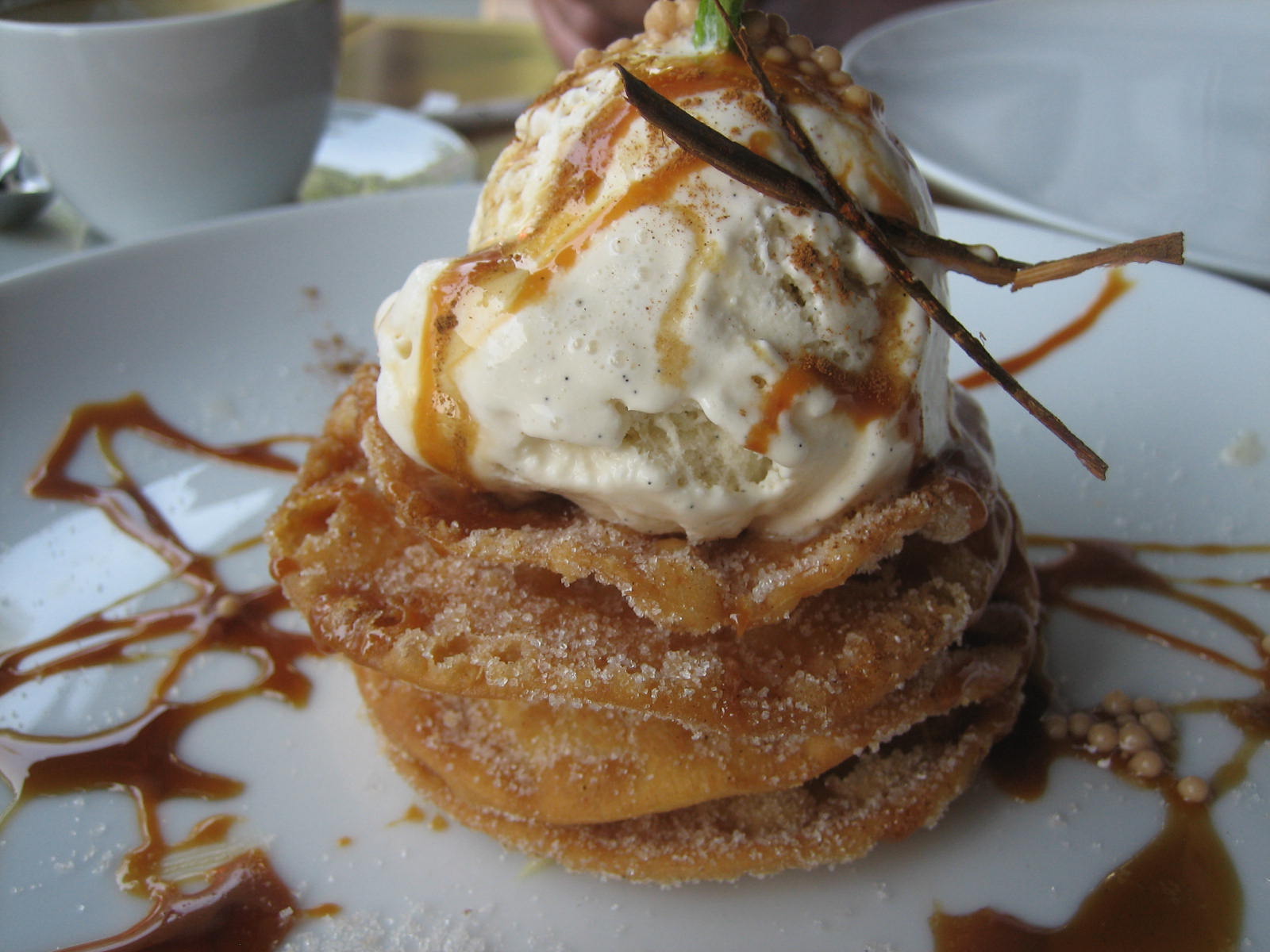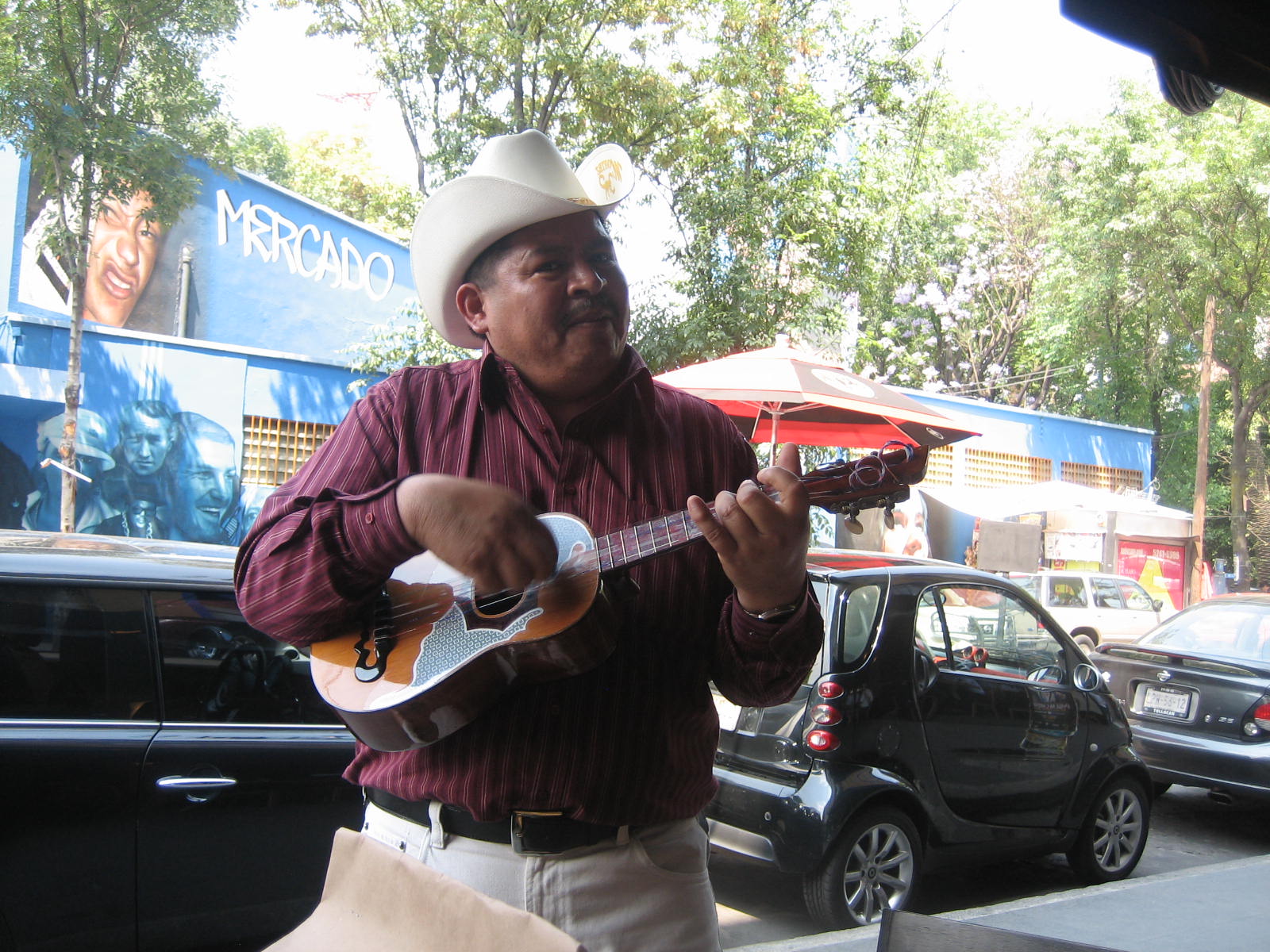 To officially close the meal, the kitchen sent out chocolate-dipped tortilla chips, dusted in chile-piquin powder.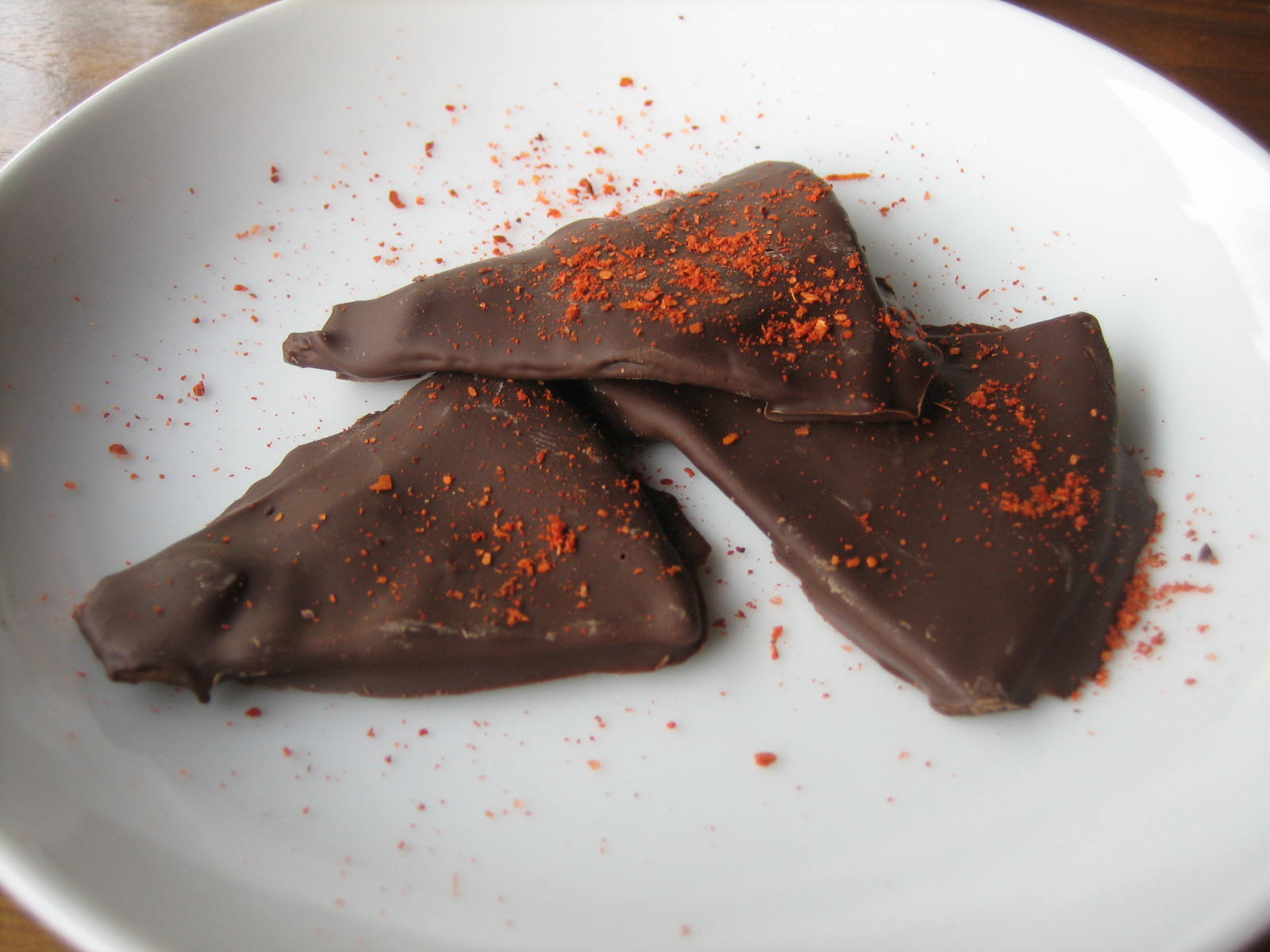 Overall, both the times I've visited Charro, I've had meals that I didn't want to end — for the food, the ambience, the wine and mescal, the music, the company. The execution here is not flawless, but it's very, very good.
UPDATE: According to one reader, Charro has closed. See the comments below.
INFO
Charro
Vicente Suárez 38, entre Atlixco y Tamaulipas, Col. Condesa
Tel. 4333-3481 / 4333-3482
Prices: The prices at Charro aren't too bad — entrees are generally under 200 pesos, and salads/appetizers probably 60 to 80. Chilango magazine estimates the average cost per person at around $350 – $400; I'd say plan on paying more if you're ordering alcohol.
What to order: The Oaxaca quesadillas; the vegetable salad with piloncillo reduction; the chicken enchiladas with dark-beer sauce. And don't forget the mescal
Service: Good to above-average. We received our drink menus promptly, and food/beverages arrived in the expected time frame. On one visit, I had to waive down the waiter a few times for drink refills; during the other visit, multiple servers stopped by the table to inquire whether everything was all right. (Stopping by the table to ask "Is everything okay?" is unusual for Mexico City.)